Description
PAAN
 Paan – This is a mixture of 100% Natural Vegetarian Ingredients.
*  After chewing  paan there is no need to leave Spittle of chewed betel.
*  After chewing  paan, there is no leftovers in the mouth.
*  After chewing  paan there is no need to use tooth peak.
The ways  Paan is processed & prepared: 
PAAN is produced mainly from Betel Leaf, Arjuna Bark, Coriander, Anise, Yastimadhu, Betel Nut, Ajwain, Stevia, and few other healthy natural ingredients. It is tasty and very useful for those who wants to get out of hazards of taking raw pan (Betel Leaf) and also those who wants to keep their mouth fresh & healthy.
Its processing methods are fully natural and free from preservatives, therefore the original qualities of these natural ingredients remain protected.
 Why would you chew  Paan?
It helps to reduce the risk of heart attack, and strengthen heart instead.
Helps to control diabetes.
Helps to relieve digestive problems and heartburn – stomach acid reflux.
Helps to increase digestive power.
Ingradients Of  PAAN:
1.  Betel (পান) (Piper betle)
2. Arjuna (অর্জুন) (Terminalia arjuna)
3. Coriander (ধনিয়া) (Coriandrum sativum)
4. Anise (মৌরী) (Pimpinella anisum)
5. Betel Nut (সুপারী) (Areca catechu)
6. Ajwain (Trachyspermum ammi)
7. Stevia (ষ্টেভিয়া) (Stevia rebaudiana) 
8. Yashtimadhu (যষ্ঠিমধু) (Glycyrrhiza glabra) 
9. Others Natural Ingredients (অন্যান্য প্রাকৃতিক উপাদান )….
 The Benefits of  Paan:
The health benefits of Betel Leaf in  Paan:
 It helps to improve digestive ability.
 It help to control blood pressures.
 It helps to relieve sour throat and clear your voice.
 It helps in eliminating mouth odour.
 It helps to prevent all kinds of mouth ulcer by maintaining the antioxidant ascorbic acid level inside our mouth.
 It helps to remedy cold and cough.
 It helps to recover taste and appetite.
 It helps to prevent diabetes.
 It helps in losing body weight.
 It greatly helps to relieve headache.
 It greatly helps to relieve joint pains and arthritis.
 Betel leaf contains antibacterial chemical which helps to cure infections.
 The health benefits of Arjuna Bark in  Paan:
  bark is reach in Coenzyme Q10 which helps to prevent heart diseases including heart attack.
 It helps in strengthening heart's muscles.
It helps to improve heart's functions.
It helps in reducing cholesterol levels in blood.
 It helps to control blood pressure.
 It helps in eliminating mouth odour.
 It has essential oil which helps in increasing digestive capacity.
 It has cancer cells' growth preventative Gallic acid, Ethyl gallate and Luteolin – which helps in preventing cancer. "Constant production of reactive oxygen species (ROS) during aerobic metabolism is balanced by antioxidant defense system of an organism. ……. The results indicate the antioxidant action of aqueous extract of T. a, which may play a role in the anti carcinogenic activity by reducing the oxidative stress along with inhibition of anaerobic metabolism." (Verma  and Vinayak, 2009, p.159)[1].
It helps to cure asthma and infectious dysentery / severe diarrhoea.
It helps in keeping digestive system healthy.
It contains Tannin which helps to quick remedy of mouth, tongue and gum ulcers and pains. Moreover, it helps in preventing gum bleeding and inflammation and in desensitizing teeth.
It keeps red blood cells healthy and active, which in turn maintains correct levels of oxygen in the blood.
 Its iron contents increase the levels of haemoglobin in blood and provide enough oxygen supply to make our body healthy and happy. "a (Terminalia a) supports circulation and tones up the heart, It is a natural rich source of tannins, calcium and iron, which get naturally absorbed by the body without producing any side effect. It improves the healing power of the body." (Herb Forever, 2018 )[[2]]
It has both antioxidants potential as well as antimicrobial activity. A very recent study published in the Journal of Traditional and Complementary Medicine in Jan'18 was aimed to evaluate the antimicrobial and antioxidant potential of ethanolic extract of bark and leaves of Terminalia a compared to its different solvent fractions. The results of this study "clearly indicated comparative antioxidant potential and antimicrobial activity in extracts of bark and leaves of a.  Results obtained in the present study strongly suggest that the polyphenols are important constituents of T. a for the antioxidants potential as well as antimicrobial activity.  …..In conclusion, antimicrobial and antioxidant potential of bark and leaves extract were comparable. There was marginal increase in antimicrobial and antioxidant in some extracts for bark and leaves. Therefore, the current study recommends the use of leaves of T. a as substitute of bark for antioxidant and antimicrobial therapeutics." (Kumar et. Al. 2018, p.100,106)[3]
"Terminalia a( a) ……is one of the most versatile medicinal plants having a wide spectrum of biological activity. The bark of T. a is anti-dysentric, antipyretic, astringent, cardiotonic, lithotriptic, anticoagulant, hypolipidemi, antimicrobial and antiuremic agent. Many useful phytoconstituents have been isolated from T. a which included triterpenoids for cardiovascular properties, tannins and flavonoids for its anticancer, antimicrobial properties and so on. ….. Phytochemical screening showed the active compounds presence in high concentration, such as phytosterol, lactones, flavonoids, phenolic compounds and tannins and glycosides." (Mandal, 2013, p960)[4]
Precautions: "Prolonged use of a may cause constipation in some peoples due to the fact that it is a mild dry herb." (Herb Forever, 2018)[2]
 The health benefits of Coriander Seeds in  Paan :
 It helps in releasing stomach acids and thus improves digestive functions.
 It plays especial role in producing insulin in our body and thus helps in maintaining blood sugar levels in the blood.
It supports in reducing the amount of harmful cholesterol/LDL in blood as well as increasing the amount of beneficial cholesterol/HDL in blood.
With its antibacterial power, coriander plays an important role in preventing all those food and water borne diseases such as cholera, typhoid, diarrhoea and dysentery.
It contains higher level of iron which helps in preventing anaemia.
The health benefits of Anise Seeds in  Paan:
It is very effective as mouth freshener.
It contains essential minerals and vitamin such as Iron, Copper, Potassium, Zink, Selenium, Magnesium, and Vitamin A, C, E & B. Anise seeds are reach in fibre and antioxidant.
It helps in improving eyesight, and also helps in reducing bloated belly, stomach cramps and indigestion.
It helps to remedy constipation.
Its fibre reach content greatly helps in preventing colon cancer.
It helps in preventing possible stroke and heart attack.
The health benefits of Specially Processed Betel Nut in  Paan:
 It helps to cure infection, inflammation and pain of gum tissue – Peoria disease.
 It helps to remedy stomach warm, blood dysentery and indigestion.
 Every 100g of betel nut has 289 kilo Calorie of energy.
The health benefits of Ajwain  in  Paan:
Digestive Health
Active enzymes in Ajwain improve the flow of stomach acids, which can help to relieve indigestion, bloating, and gas. The plant can also help to treat peptic ulcers as well as sores in the esophagus, stomach, and intestines.
Infection Prevention
Many of the essential oils in ajwain, most notably thymol and carvacrol, can help to fight the growth of bacteria and fungi. They may also help to fight bacteria like salmonella and E. coli, which can lead to food poisoning and other stomach issues.
Lower Blood  Pressure
Research in rats indicates that thymol in ajwain might act to keep calcium from entering the blood vessels in your heart, helping to lower blood pressure. 
Cough and Congestion Relief
Ajwain can provide relief from coughing as well as clear mucus from your nose, both of which make breathing easier. It may also help to widen the bronchial tubes, which can help those with asthma. 
Toothache Relief
Due to the anti-inflammatory properties of thymol and other essential oils, ajwain can help to reduce pain associated with toothaches. Thymol may also help to improve your oral health by fighting bacteria and fungi in the mouth.  
Arthritis Pain Relief
Ajwain can also help to soothe pain and swelling. Crushed fruit can be made into a paste and applied to the skin at the joints to treat arthritis pain. Alternatively, you can fill your tub with warm water and add a handful of seeds for a soothing bath.  [Source:]

 The health benefits of Stevia in  Paan:
Although Stevie is 300 time sweeter than sugar, it has no calorific value and side effects, and thus diabetic patients can use this natural sweetener without any worries.

Stevia is a source of remedy for controlling excessive secretion of urine called polyuria.

It has many rare essential minerals such as Beta carotene and Vitamin-C which supply nutrients to our liver and spleen, and also it helps in releasing insulin from pancreas.

It greatly helps in preventing stomach acid reflux.

It helps in preventing eye, kidney and lung problems including gangrene of diabetic patients.
The health benefits of Yashtimadhu / Glycyrrhiza Glabra / Licorice Root in  Paan:
Licorice root which is a perennial herb is up to 50 times sweeter than sugar.
This licorice root helps to loosen and expel phlegm. Also it is a remedy for sore throat, cough and cold. It eases congestion from cough and cold. It helps to sooth irritated mucous membranes. "The German Standard License approves licorice root infusions for loosening mucus and alleviating discharge in bronchitis, while the British Herbal Compendium indicates the use of licorice root for bronchitis." (Mercola, 2016, p1)[[6]] .
It helps to prevent growth of virus, bacteria and algae causing different illnesses and diseases.  "Triterpenoid is one of the mainly active components of licorice. In recent years, the broad-spectrum antiviral activity of many triterpenoids in licorice was confirmed, and these findings have become a hot spot of antiviral immunity. The triterpenoids of licorice has the potential to become a novel broad-spectrum antiviral medicine and will be widely used in the clinical treatment." (Pu et. al. 2013, p673)[[7]].
Licorice root help to relieve gastric ulcers and other forms of peptic ulcers by triggering releasing gel–forming mucins from stomach mucus membrane and strengthening stomach's epithelial cells.(Johansson, 2013)[[8]]      "Licorice has antibacterial properties and has been found to help relieve stomach ulcers….. Germany's Commission E approved the use of licorice root for treating ulcers." (Mercola, 2016, p1)[6] .
Licorice roots relieve constipation by enhancing the contraction capacity of our colon in moving waste through. A clinical trial on 40 patients to investigate the effects of a herbal preparation containing licorice and other herbs (Lax-Asab) in treating chronic constipation has found that it significantly improved chronic constipation compared to a placebo. "Functional constipation is a common clinical complaint of patients with unsatisfactory treatment outcome. We designed this study to evaluate the efficiency of a traditional herbal preparation (Lax-Asab) in treating chronic constipation. …… Defecation difficulties improved significantly more in patients who received Lax-Asab than patients who received placebo. There was no statistically significant difference between the two groups with regard to the side effects observed. This study confirms the efficacy and tolerability of an Iranian herbal preparation, Lax-Asab, in treating patients with chronic functional constipation." (Somi et al., 2015, p153)[[9]].
 Paan Barcode: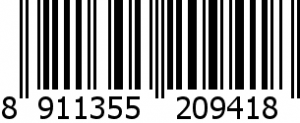 Usages:
You can eat/chew it anytime you like.
Side effect:
As it is produced from different natural vegetarian ingredients it does not have any side effect.
Who Can take it:
Paan – for those people who take betel leaf, adult people, smoker people and All General peoples.
[1] N. Verma and M. Vinayak (2009) Effect of Terminalia a on Antioxidant Defense System in Cancer, Molecular Biology Reports, Jan, Vol.36(1), pp:159-164.
[2] Herbs Forever – an American based herbal company (2018) SATVEDA, 501 S.Harvard Blvd, Suite 2, Los Angeles, California U.S.A – 90020;  [Web site: https://www.satveda.com/p/a , Date Visited: 21/01/2018]
[3] V. Kumar, N. Sharma, A. Sourirajan, and P. KumarKhosla (2018) Comparative evaluation of antimicrobial and antioxidant potential of ethanolic extract and its fractions of bark and leaves of Terminalia a from north-western Himalayas, India, Journal of Traditional and Complementary Medicine, Vol.8(1), Jan., pp:100-106 [Web site:  https://www.sciencedirect.com/science/article/pii/S2225411017300421 ; Date visited: 21/01/2018]
[4] S. Mandal, A. Patra, A. Samanta, S. Roy, A. Mandal, T. D. Mahapatra, S. Pradhan, K. Das, and D. K. Nandi  (2013) Analysis of Phytochemical Profile of Terminalia a Bark Extract with Antioxidative and Antimicrobial Properties, Asian Pacific Journal of Tropical Biomedicine (APJTB), Dec, Vol.3(12), pp:960–966.
[5] S. Bose*, Prof. S. K. Sinha**, and G. Mukherjee*** (2011)  In-vitro Study of Triphala on Antioxidant Activity, Science & Culture, Vol.77, Nos.11–12, pp:511-513. [This study was supported by the Antioxidant Society of India; Web address: http://www.scienceandculture-isna.org/nov-dec-2011/21-06%20Research%20Communication%20-%20Surajit%20Bose.pdf , Visited on: 18/01/2018; * Dental Surgeon & Research Consultant, The Antioxidant Society of India.** Prof. Department of Botany, S. K. M University, Dumka.*** Pathologist & Ex-Guest Lecturer, Institute Post Graduate Ayurvedic Education & Research at Shyma Das Vidya Shastra Pith, Kolkata.]
[6] Dr. Mercola's (2016) What Is Licorice Root Good For? Natural Health Newsletter, March 21, p1; [Web site:  https://articles.mercola.com/sites/articles/archive/2016/03/21/licorice-root-uses.aspx ; Date visited: 21/01/2018]
[7] J. Y. Pu, L. He, S. Y. Wu, P. Zhang, and X. Huang (2013) Anti-virus Research of Triterpenoids in Licorice, Bing Du Xue Bao. Nov, Vol.29(6), pp:673-679. [Web site: https://www.ncbi.nlm.nih.gov/pubmed/24520776 , Date Visited: 21/01/2018]
[8] M. E. V. Johansson, H. Sjövall, and G. C. Hansson (2013) The Gastrointestinal Mucus System in Health and Disease, Nature Reviews Gastroenterology & Hepatology, Vol.10, pp:352–361. [Web site: https://www.ncbi.nlm.nih.gov/pmc/articles/PMC3758667/ ; Date Visited: 21/01/2018]
[9] M. H. Somi, M. Bagheri, and M. Ghojazadeh (2015) Efficacy of an Iranian Herbal Preparation (Lax-Asab) in Treating Functional Constipation: A randomized, Placebo-Controlled clinical Trial, Journal of Traditional and Complementary Medicine (eJTCM),   Feb 21, Vol.5(3), pp:153-156 [Web site: https://www.ncbi.nlm.nih.gov/pubmed/26151027 , Date Visited: 21/01/2018]